---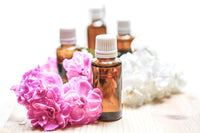 Customized essential oil blend design service to your individual needs. The price includes the manufacturing service as well as the product.

Whether it is for yourself, a loved one, a child, the office or a pet, we adapt our services to your needs.
A form will be emailed to you to establish your needs and determine the purpose of the mixture, the type of use desired, and the safety of all family members.

---------
IMPORTANT: Please allow a period (maximum 24 hours) between payment and sending the form by email, as well as a manufacturing period varying between 2 and 7 days depending on the recipe (product maturation time) following the return of the product. form with your answers.
All of our blends contain all-natural oils, certified organic where possible.
----------
Please note that we do not offer a guarantee of efficiency, but a guarantee of quality. If the product does not meet your expectations, we will be happy to help you find an alternative!