---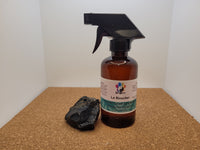 The Shield will be your pet's ally all summer long! A gentle, pleasant-to-use formula that is effective in repelling mosquitoes, black flies, fleas, ticks and other undesirables, The Shield is easy-to-use, all-natural insect protection!
Non-greasy, non-sticky formula with non-aggressive floral fragrances.
Can be used on dogs and horses (and humans!).
*Use on cats is not recommended, although the ingredients and concentration are theoretically safe. This formula is unfortunately little appreciated by many felines because of the lemony aftertaste, despite the presence of catnip*
Usage:Shake well. Spray on animal's coat, or on a scarf, as needed, to repel fleas, ticks, mosquitoes, black flies and other biting insects.

Ingredients:Distilled Water, Coconut Oil, Essential Oil Blend (Organic Catnip, Organic Lemon, Lemongrass, Organic Lemon Eucalyptus, Organic Lavender, Organic Neem, Organic Peppermint, Organic Clary Sage).