---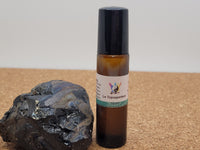 Do you suffer from motion sickness, motion-related nausea or vomiting, or dizziness? The Transporter is for you! A gentle and soothing recipe that not only helps manage the discomfort associated with motion sickness, but also the anxiety it can cause.
Can also be useful in case of indigestion or sleepiness!
Ingredients:Coconut oil, blend of essential oils (Organic peppermint, Organic ginger, Sweet marjoram, Sweet fennel, Copaiba, Tarragon).
Instructions:Apply behind the ears 10 minutes before departure to prevent and relieve motion sickness.
Can also be applied below the navel or inside the wrists.