---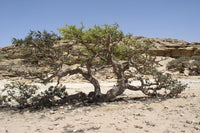 ***Temporarily unavailable***

Uses:
Used for centuries during religious celebrations, both in the Middle East and later in Europe, frankincense has a well-recognized calming and rejuvenating effect that allows better focus during meditations.
Properties:
Excessively safe, very well tolerated, versatile and effective
Effect against cancers, tumors and cysts
Helps with behavioral disorders, depression and neurological disorders
Stimulates and regulates the immune system, decreases autoimmune disorders, contributes to DNA repair
"Life force", helps to facilitate important transitions (death, bereavement, birth, etc.), stress and trauma
Great synergistic effect with other oils
Balancing and grounding effect
Safety and Precautions
Keep out of the reach of children and animals. Not intended for consumption.

Information
| | |
| --- | --- |
| Latin name | Boswellia carterii |
| Main components | Thujene, alpha-pinene, limonene, phellandrene |
| Extraction method | Steam distillation |
| Part used | Oleoresin |
| Native country | United Arab Emirates |