---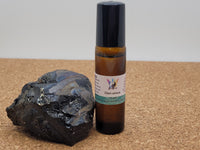 Blend specially formulated to relieve congested sinuses caused by allergies or viruses. Gentle enough to use regularly, strong enough for quick relief!
Instructions:
Apply as needed under the nose, under the jaw, on the throat or in the lungs to help clear the sinuses, reduce headaches and relieve nasal congestion.
Ingredients:
Coconut oil, blend of essential oils (Red thyme, Organic peppermint, Copaiba, Organic juniper berry, Organic globular eucalyptus, Organic myrtle, Organic ginger, Helichrysum).